04 Feb 2021
---
AR Code now lets you instantly create augmented reality experiences from text. This "Text to AR" feature is available on the ar-code.com web interface but also directly in the iOS AR Text mobile application.
Ultra fast 3D modeling
We have designed this "Text to AR" service to be as simple as possible while offering significant customization possibilities. Indeed, all you have to do is indicate your text, choose its color and choose its font, a preview of your 3D model will be displayed instantly. Then you just need to click on the "AR rendering" button to start the 3D modeling process lasting about 10 seconds.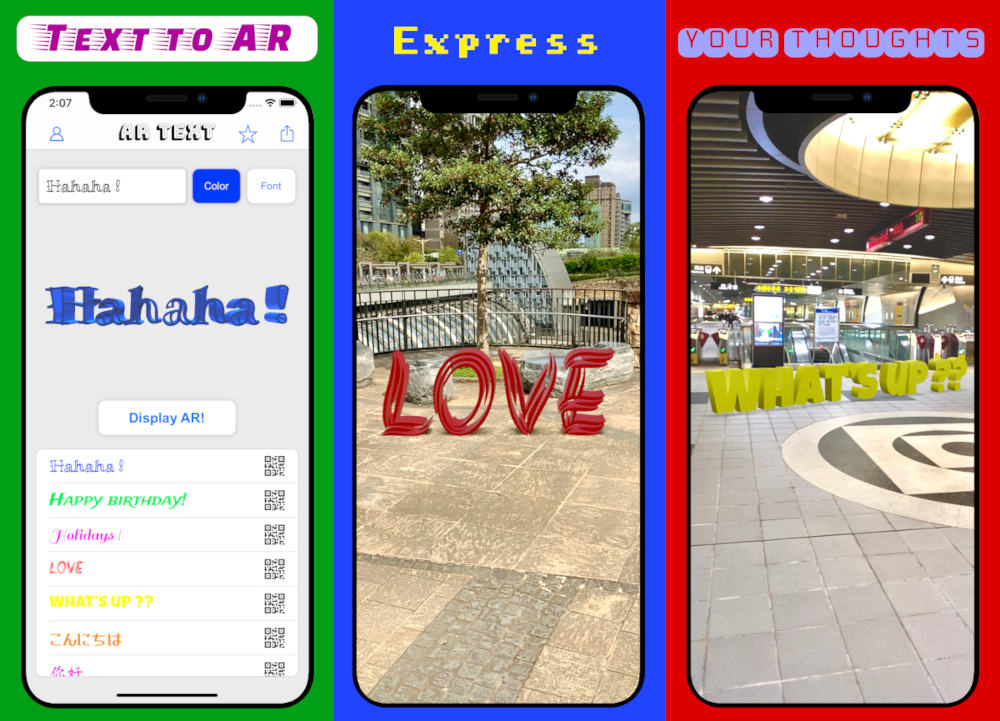 At the end of the modeling, an augmented reality display of your creation will be launched automatically and this experience will be saved within your application.
The generation of AR Code within the iOS AR Text application
To facilitate the sharing and anchoring of your AR experiences created on AR Text, we have implemented the generation of AR Codes within the application. The created AR Codes can be linked to your AR Code account by indicating your API key in the app settings.
Download the iOS AR Text application or generate your "text to AR" experiences directly on AR Code
The "Text to AR" experiments can be performed on both AR Code and AR Text iOS app. Text 3D is currently only available on iOS devices, so we invite Android smartphone users to use the web app version via AR Code website.
Start generating your "text to AR" experiences on AR Text for iOS or on the web interface https://ar-code.com !