---
Monday 21st of November 2022 08:16:06 AM |
---
NFT stands for Non-Fungible Token which is a digital asset that can only exist once using the blockchain technology.
In the age of a Web3 revolution, at AR Code we share the vision that augmented reality, and non-fungible tokens will become mainstream in the near future.
3D NFTs and Augmented Reality display
3D NFTs are a new form of digital collectible that includes a 3D model. With AR Code, these models can be displayed in your direct environment with Augmented Reality. AR Code solves the problems of 3D NFTs that need a quick and easy AR display.
Using AR Code technology, a 3D NFT will be more appealing to the audience. The use of AR makes them more realistic by making them interact with the viewer's real environment.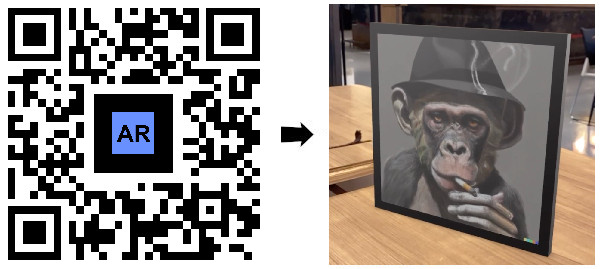 AR Code, a SaaS to create and manage your AR experiences
AR Code allows you to create, manage and visualize Augmented Reality experiences. It offers you creative tools to make your AR project more interactive and engaging.
The 3D file upload feature allows you to set a 3D model NFT behind an AR Code.You can then manage its accessibility and anchor it anywhere (place, product, showcase, document, website, ...)
Statistics and tracking of your AR QR Codes
AR Code offers a scan statistics and a tracking feature to retarget users who have scanned your AR Codes. For more information : https://ar-code.com/blog/how-to-track-and-retarget-users-from-your-ar-qr-code-experiences
Powering
17,704 AR experiences
Serving
18,393 Scans per day
Start creating, managing, editing, and tracking your AR Code experiences.