---
AR Code Tech | Thursday 10th of February 2022 03:38:49 PM |
---
Augmented Reality is technology that allows you to view digital content in the real world around you. This visual technology is today mostly available through smartphones and is starting to be introduced in 2022 with augmented reality glasses.
The content you see on an AR device is mainly 3D creations, games and models that are superimposed on the real world. Classic media content can also be seen on an AR device, such as texts, images, or videos.
Augmented Reality and Metaverse are disrupting the digital content world
3D games, as well as social media filters, was among the most popular uses of Augmented Reality in 2021. The Metaverse trend that started after Mark Zuckerberg announced Facebook's AR strategy, has prompted individuals and businesses to focus more on these XR technologies.
Today, more and more people and businesses are understanding the potential of 2D content in AR. The common thinking that you don't need to play an AR Video if you can display the same video on your phone screen is changing.
People also discovered that it will be necessary to have AR Videos on augmented reality glasses.
AR Videos on smartphones can however give significant impacts:
AR is a surprisingly fun way to view videos.
Perfect for an advertisement, the viewer would be likely to watch this video over and over.
A type of augmented reality (AR) experience that can be shared through a simple code
Thanks to the AR Code, you can anchor the video on a particular surface (Product packaging, Showcase, Screen,...) and then move around to interact with your content.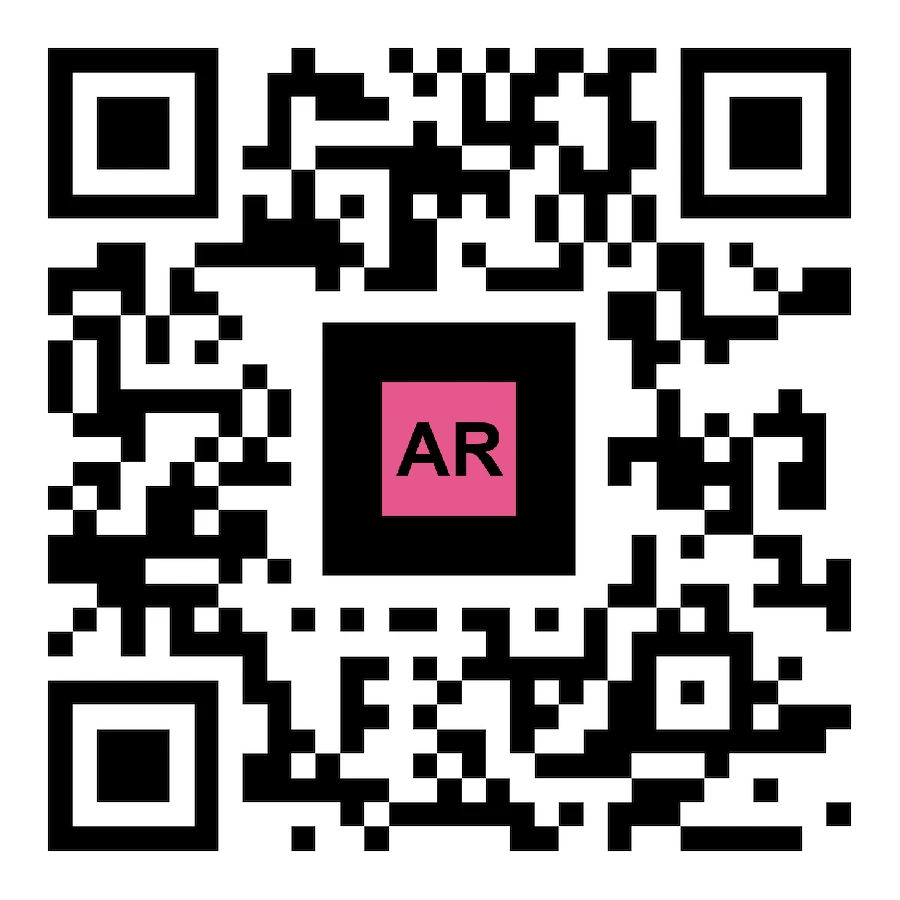 AR QR Codes: the future of marketing
AR Code is a technology that allows you to anchor virtual content to the real world, bringing entertainment and education to your everyday life. The AR Code experiences can be displayed without a third-party app.
The AR Code platform allows you to create a variety of AR experiences:
Text flyover, to display remote data on an AR Code
AR Filter, to anchor the AR experiences of social networks behind an AR QR Code
AR Video
You can track and manage these experiences using the platform's advanced tracking tools.
AR Videos and how they work on AR Code
AR Videos can be viewed without an app on any smartphone or tablet, with an operating system corresponding to the following versions : Android>4.4 and iOS>11.0
Indeed AR Videos are managed with WebAR technology. Using AR.js, THREE.js, and A-Frame libraries, it create an augmented reality video experience using a marker associated with the AR Code.
The AR.js and A-Frame frameworks are popular tools for creating virtual reality experiences, and three.js is a 3D graphics library for WebGL content.
The video is rendered flying over the augmented reality QR Code and can be seen by pointing a smartphone at it.
The AR Code cloud manages the video stream, it has been optimized for .mp4 and .mov file formats. When you upload video files, we analyze them, compress them and convert them to the optimal size and resolution for augmented reality.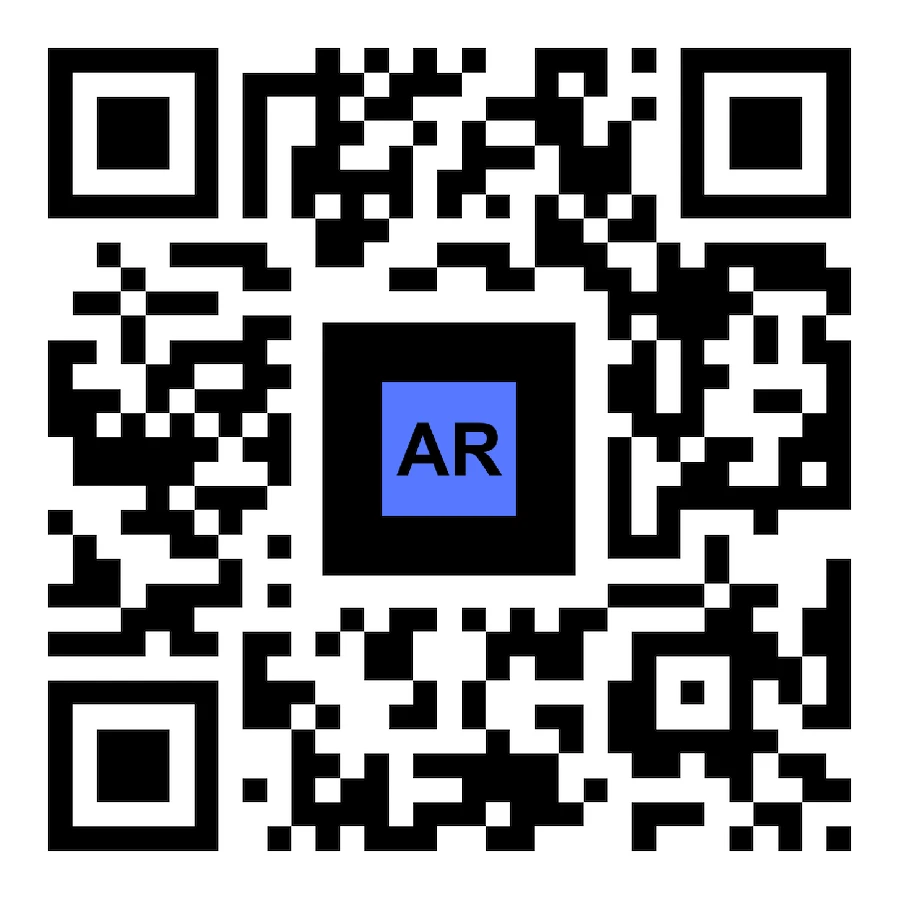 TUTORIAL: How to make your own AR Video anchored with an AR Code?
Creating an AR Video on AR Code is quick and easy. You'll need to have opened an AR Code STANDARD or PRO account to access this feature.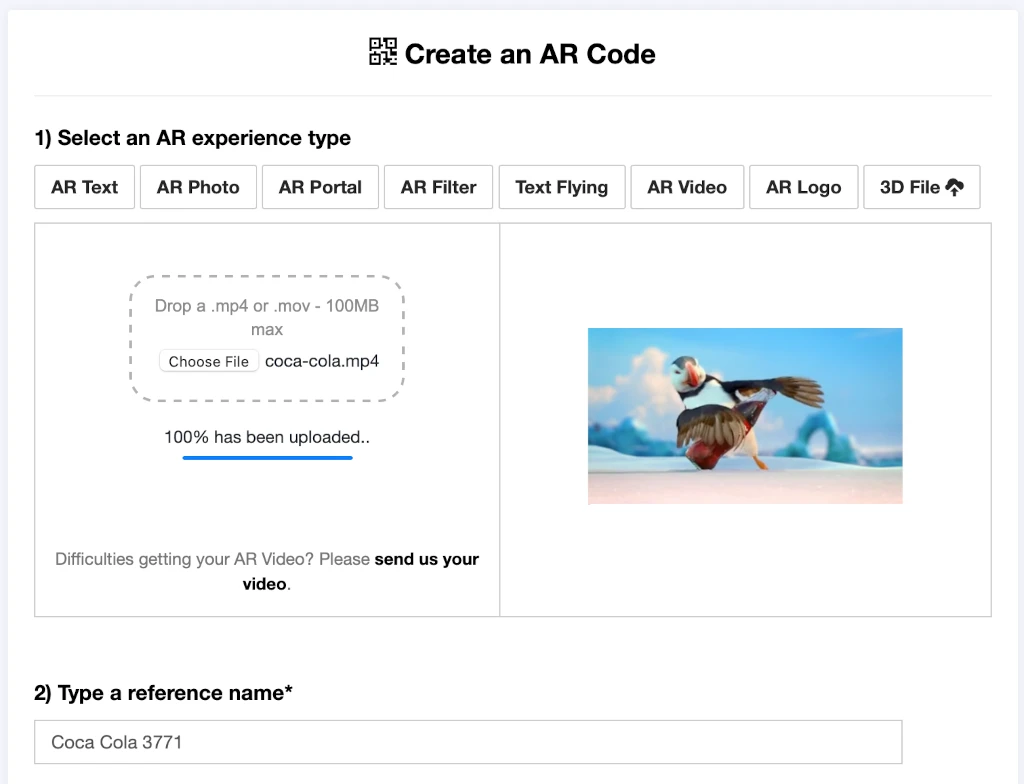 Then please follow these instructions:
Click on the type of experience "AR Video"
Upload a video file in .mp4 or .mov format, with a file size no more than 100Mb.
Once the upload is complete, click on "Create" to generate your AR Code.
Tutorial video:
Tip: The larger the printed AR Code, the better your AR Video experience will be.
Powering
19,414

AR experiences
Serving
20,583

Scans per day
Start creating, managing, editing, and tracking your AR Code experiences.