---
Wednesday 21st of September 2022 04:20:27 PM |
---
The AR Code web service enables companies to link their product pages with Augmented Reality experiences, like 3D models that users can view and manipulate. Create immersive and interactive user experiences that turn your site into an adventure.
AR Code lets you access AR experiences by scanning QR Codes from a website. It allow you to see 3D versions of products in your direct environment.
Get a real-looking, scaled representation of a product
AR Code helps online merchants show product by rapidly displaying an accurate representation of their products in real size, with their actual proportions and color.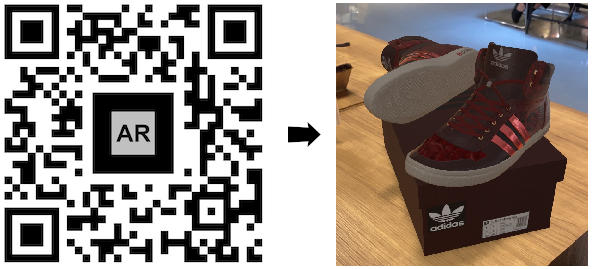 AR Code allows customers to view products in 3D from all angles, textured and scaled. This creates an immersive experience while purchasing. With AR Code, you can create a realistic and personalized experience for your customers by letting them see the product in their own space before ordering.
AR Code technology allows you to embed AR experiences on your online store. When users scan the code with their smartphone or AR glasses, they'll get a preview of any product in a 3D interactive way.
Augmented Reality increase the engagement of your visitors
A 3D model of the product displayed in Augmented Reality will increase the engagement of your visitors. AR Code will make your business website look more attractive and provide a unique experience for your customers.
For online shops who do not have 3D models of their products, or looking to create one, AR Code provide tutorial to easily scan product by photogrammetry and automatically generate 3D model. You can then upload it behind an AR Code.
Augmented Reality is the next big thing
AR is already helping you visualize furniture in your room, visualize painting on a wall or 3D games on the floor. AR Code is the next common use of Augmented Reality as our technology doesn't need any app to display the AR experiences.
AR Code offer complete solutions for your AR project: 3D model creation, 3D model integration on the AR Cloud server and easy publication for a universal AR display on any android or Apple device.
AR Code is the world's first AR platform for 3D model anchoring behind QR Codes. Our technology makes it possible to visualize 3D models universally on smartphones, and soon on AR glasses.
Powering
8311 AR experiences
Serving
1,285 Scans per day
Start creating, managing, editing, and tracking your AR Code experiences.