---
AR Code Tech | 19/10/2023 |
---
AR Code technology is transforming how we experience sports events, such as the FIFA World Cup Qatar 2022. Augmented Reality enables fans to access 3D content and interactive experiences directly from their smartphones or tablets.
AR Codes: A Universal Solution for Augmented Reality Experiences
One approach to integrating AR into sports events is through AR Codes. These QR Codes, when scanned with a smartphone or tablet, trigger the display of 3D content or interactive experiences.
For instance, during the FIFA World Cup Qatar 2022, fans were able to scan an AR Code to access 3D models of their favorite players, the 3D World Cup trophy, or virtual reality experiences that transported them onto the field.
AR Codes can be displayed on billboards, showcases, or physical objects at the event, or they can be shared digitally through social media or other online platforms.
Engaging Fans with AR Codes during Sports Events
By utilizing AR Codes, event organizers can offer fans a new level of engagement and immersion, enhancing the overall experience of the event, as seen during the FIFA World Cup 2022 in Qatar.
Related article: Discover how AR QR Codes can engage customers in sports centers.
AR Code to Anchor AR Filters from Snapchat, Instagram or Facebook
Augmented Reality technology has revolutionized the way brands engage with their customers. With the AR Code's AR Filter feature, you can set up an AR experience from Snapchat, Instagram, or Facebook, providing an interactive and engaging experience for users. For example, check out this AR filter featuring a famous soccer player.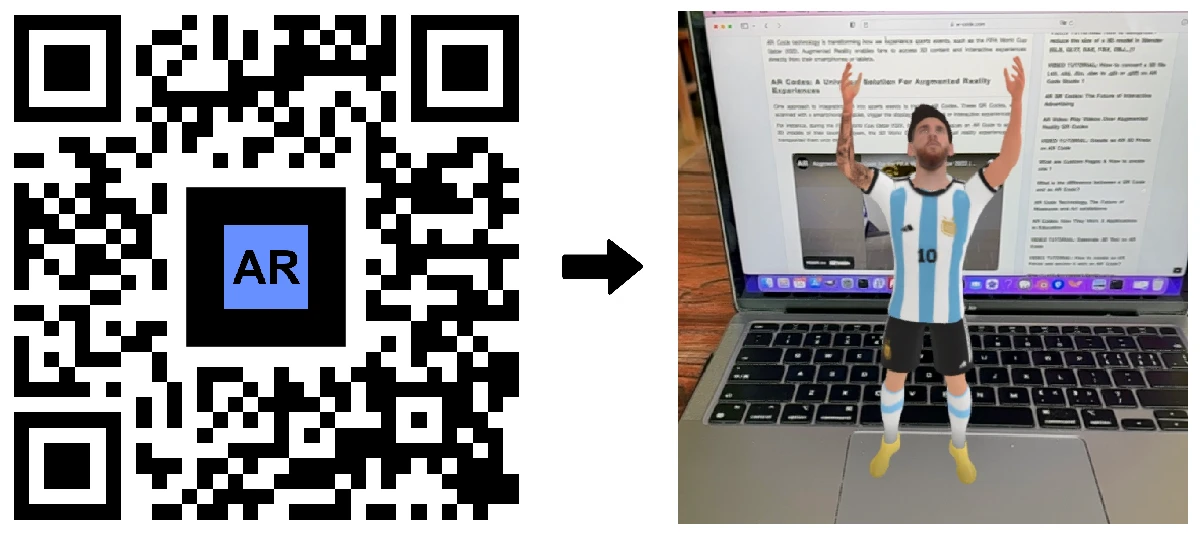 The AR filter allows fans to interact with a soccer player in 3D from their own homes by scanning an AR Code. It's a perfect example of how an AR Code can create unique marketing strategies that resonate with audiences.
Incorporating AR Codes into your marketing campaigns can help increase user engagement and brand awareness. Contact us to learn more about how AR Codes can elevate your marketing efforts.
Powering
40,870

AR experiences
Serving
134,886

Scans per day
Trusted by
27885

Creators
Start creating, managing, and tracking your AR Code experiences.