---
AR Code Tech | 19/10/2023 |
---
Revolutionize the real estate sector with AR Code technology, offering innovative ways for people to buy, sell, and interact with properties.
Augment your Real Estate business with AR Codes
Real estate plays a vital role in the economic growth of many countries. Integrating innovative technologies is crucial for advancing this sector. AR Code technology offers practical applications in the real estate industry.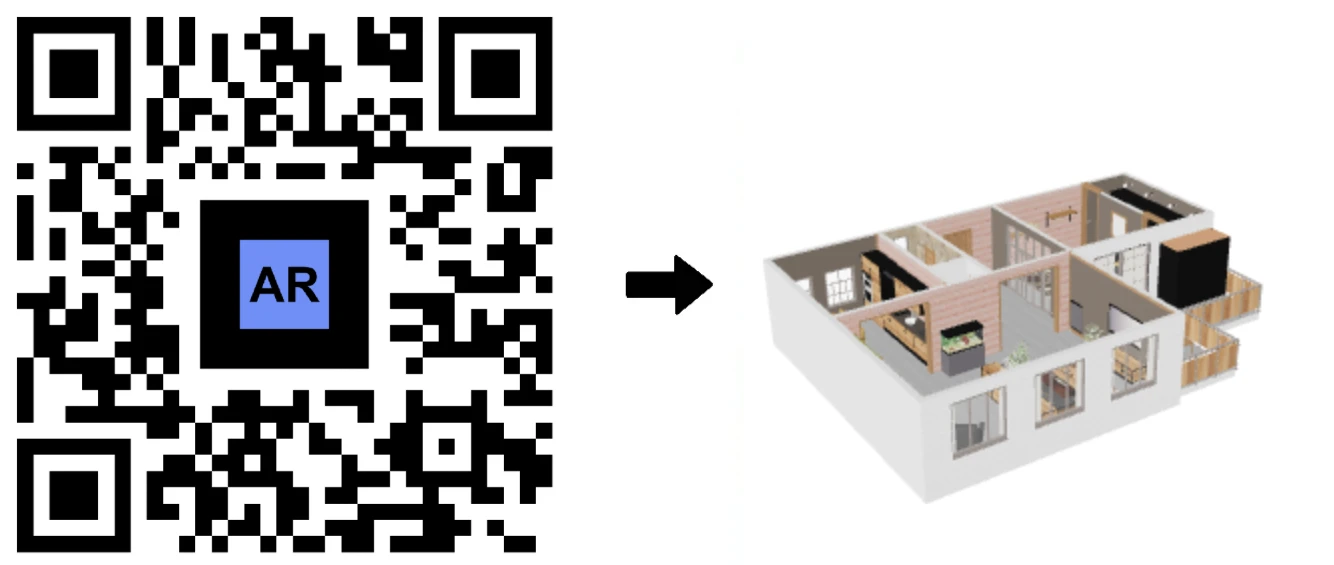 An AR Code provides an Augmented Reality experience from various sources, such as product packaging, presentation brochures, websites, and more. It directs users to a technology that renders virtual 3D content in the real environment.
For real estate professionals, AR views can reassure colleagues, prospects, or customers about the final product. An AR QR Code can make an online home-buying experience more immersive. Virtual reality tours can be created to let buyers explore their future home without needing to physically visit it. AR Code technology is especially beneficial for long-distance buyers who cannot visit properties in person.
Virtual staging is a crucial step in the selling process. By allowing realtors to virtually stage a property digitally, they can avoid the cost of physically furnishing a space. Adding furniture and accessories via an AR Code is simple and efficient.
Architects utilize Augmented Reality Codes to create realistic architectural projections and walkthroughs for potential clients. Below is an example of an AR code for a virtual apartment presentation:
3D Architect Apartment Model
If you have created a 3D model of a property using any 3D design software such as Sketchup, you can easily upload your model on the AR Code web interface. Here is a 3D model of an architect-designed apartment in AR: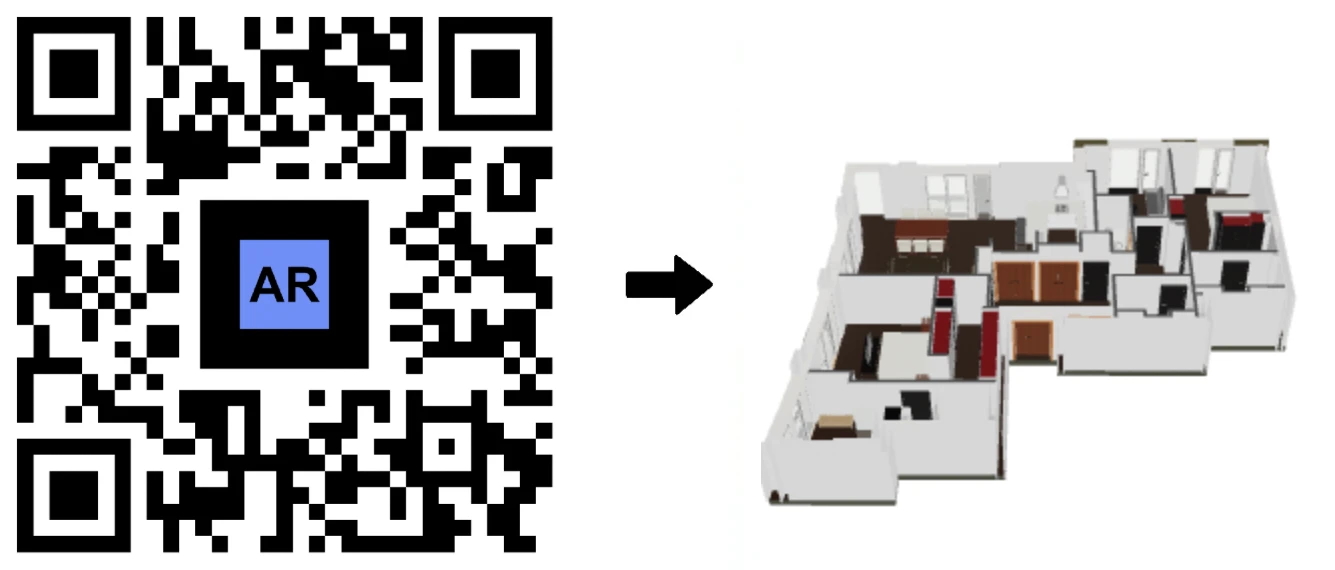 AR Monument from Photogrammetry
Photogrammetry is a technique that uses photos to generate a 3D model: photogrammetry tutorial.
Here is a stunning photogrammetry of the Mont Saint-Michel in France displayed in augmented reality via an AR Code. The photogrammetry captured the intricate details and textures of the historic island and its surrounding bay, including the famous monastery and fortifications. This innovative use of photogrammetry and augmented reality has opened up new possibilities for experiencing historical landmarks and cultural treasures, revolutionizing the tourism industry.
360 AR Portals with their AR Codes
360 photo to AR Portal (https://ar-portal.com)
The AR Code web app allows you to easily create an augmented reality portal from your 360° photos. Perfect for providing an augmented reality tour of existing locations effortlessly: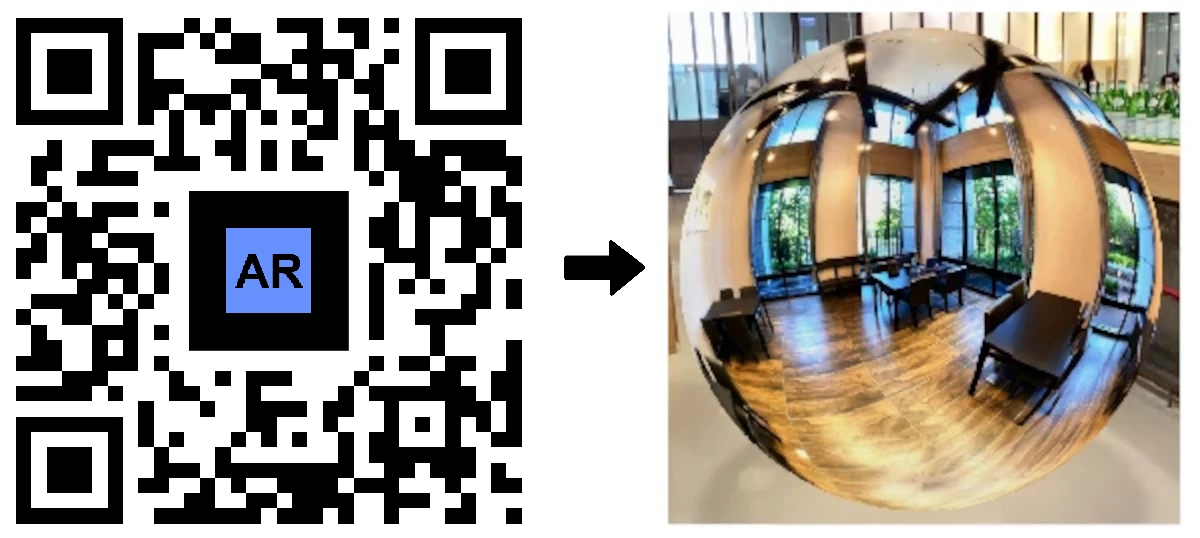 For iPhone & iPad users, we have developed the AR Portal mobile app: AR Portal on the App Store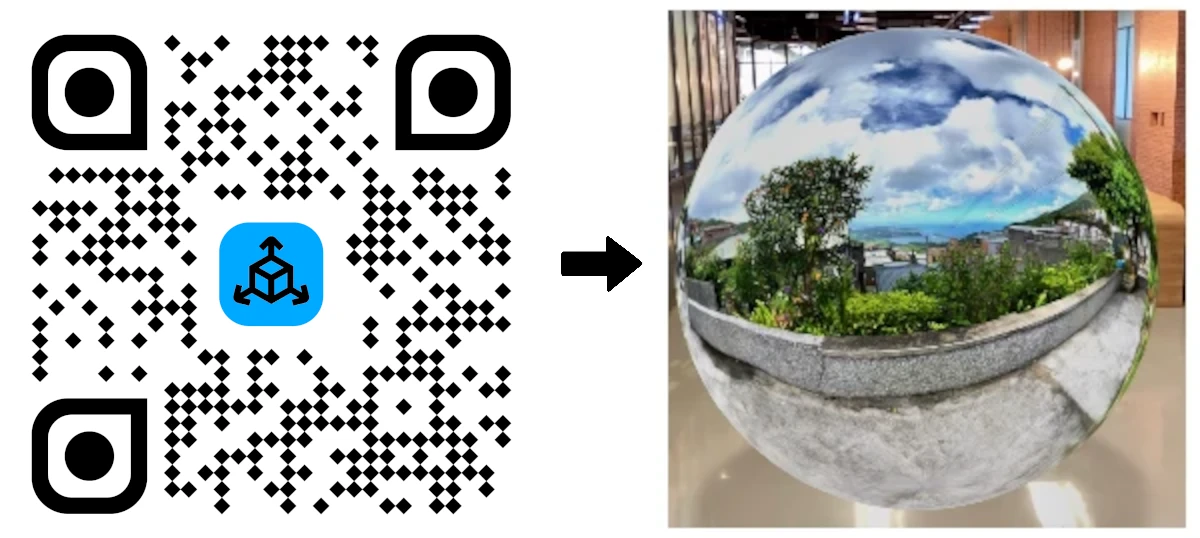 How to scan an AR Code?
Our AR file hosting and conversion service enables users with smartphones running on iOS or Android to view the AR experience seamlessly. For more information, please see our comprehensive article: How to scan an AR Code?
To generate your own augmented reality experience of an apartment under construction, a house or building site, or an interior space, sign up for an account on our platform.
Frequently asked questions
How can AR Codes enhance the real estate buying experience?
AR Codes can significantly improve the real estate buying experience by providing virtual tours of properties and allowing potential buyers to visualize the final product. This is particularly helpful for long-distance buyers who cannot physically visit the properties. By scanning an AR QR Code, users can access virtual reality tours, explore 3D models, and experience augmented reality portals created from 360° photos.
How do AR Codes benefit realtors during the selling process?
AR Codes offer numerous benefits to realtors during the selling process. They allow for virtual staging, which can save costs associated with physically furnishing a space. Realtors can also provide potential clients with realistic architectural projections and walkthroughs, making the overall selling process more efficient and appealing.
How can I create an AR Code for a real estate property?
To create an AR Code for a real estate property, you can sign up for an account on the AR Code platform. You can then generate augmented reality experiences for properties under construction, building sites, or interior spaces. The platform allows you to create AR portals from 360° photos and upload 3D models created with design software like Sketchup. Once you've created your AR Code, users can scan it to access the immersive experience.
Powering
40,870

AR experiences
Serving
134,882

Scans per day
Trusted by
27885

Creators
Start creating, managing, and tracking your AR Code experiences.