13 May 2020
---
Real estate has been slow to adopt new technologies. To break up its immunity to technological advances, AR Code is being launched in that sector to bring up new and innovative changes in the way people buy, sell and interact with properties.
AR Codes to promote the real estate sector
For many countries, real estate affects the economy as it constitutes a critical driver of economic growth. Innovative technologies are essential in this sector. AR technology bargains different practical claims in the real estate industry.
Between the most famous actual new technologies, AR Code is used to display an Augmented Reality experience from any place (product, presentation brochure, website, showcase, ...). An AR Code redirects its user to an AR rendering web page that will display a virtual 3D content in the real environment.
For the real-estate selling, an AR view can improve a project presentation to a colleague, a prospect or a customer by reassuring him on the final rendering. An AR QR Code can also improve the online home-buying experiences, making them more exciting. Virtual reality tours can be created to let potential buyers experiencing their future home. AR Code technology is then very helpful for the long-distance buyers who can't physically visit the properties.
As staging constitutes an important step to increase the perceived price of a specific house, allowing realtors to virtually stage the property trough an AR Code also cope with the heavy expense that it may induce. Digitally add furniture and accessories in a place via an AR Code is simple and efficient.
For the architecture businesses, Augmented Reality Codes can be used to create a realistic architectural projection and walkthroughs to show up to the buyers the look of their future properties. Here is an example with an AR code for a virtual apartment presentation.
Apartment tour via an AR QR Code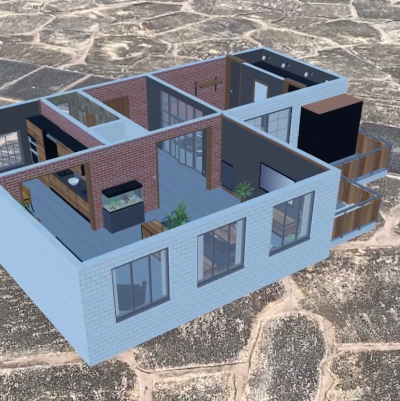 Try the AR experience presented above by scanning this AR Code:
Our 3D file hosting and conversion service allows the experience to display by default on iOS>13 & Android>9 smartphones or through augmented reality glasses such as Magic Leap ones. If you want to add more interactivity or fluidity to this experience, we developed mobile application solutions for iOS and Android. You can test the iOS AR QR Code app here.
To generate your own augmented reality experience (apartment under construction, house presentation, building site, interior decoration, kitchen or bathroom design,...) open a TRIAL account on our platform or contact us.