22 Nov 2021
---
An AR Portal is a type of immersive augmented reality experience that can meet a variety of business needs, especially for companies that need to immerse their prospect in their product or service before the act of buying.
The real estate industry and the tourism industry are directly concerned, but many other businesses such as museums, leisure places, shops, public places, ... can also improve their marketing with an AR Portal.
What is an immersive augmented reality experience?
AR stands for Augmented Reality, it is a computer technology that combines the recognition of the 3D environment and the projection of 3D data into the user's field of vision. Most of the uses of AR technology now go through the smartphone interfaces, but they are slowly evolving into a new type of device that will make these experiences more stunning: AR glasses or AR headsets.
There are different types of AR experiences, the most famous are social media AR filters which add 3D models around your face. Instagram and Snapchat are the main platforms offering this type of augmented reality experience (You can anchor this type of AR experiences with an AR Code).
Immersive augmented reality experiences are the ones that can completely surround a user's field of vision and are so realistic that they create "another world" feelhing. This meta world is now commonly referred to as "Metaverse".
What is an AR Portal, how does it work?
An AR Portal looks like an AR gate, it's like an entry point into the metaverse. To better understand it, here is what an AR Portal created on AR Code looks like: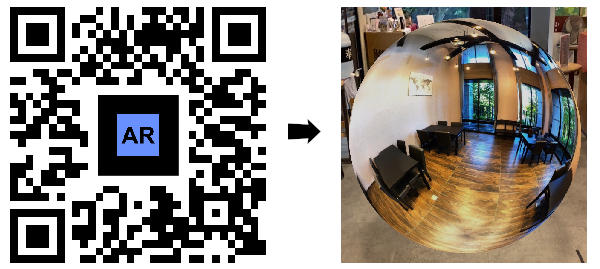 Why to anchor an AR Portal?
Access to an AR experience requires user action. We can summarize them into 3 types, using an AR device, clicking on an AR app, or interacting with an AR anchor in the real world.
An AR anchor can be set via location, image recognition, or just a code. The advantage of our AR Code is that it doesn't need a third app to run.
Here's an example of an AR Portal anchored via an AR Code: You sell travel through a magazine marketing campaign. You can let your readers explore the AR portal of a hotel spa or the room they will be sleeping in.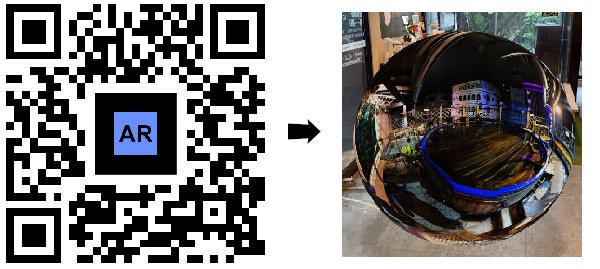 Readers will only have to scan the AR Code without any third app and access the AR content. In a world of AR glasses, this will become a very common action.
Tutorial: How to create an AR portal and examples?
To create an AR Portal, we developed two designer interfaces, a web interface and an iOS mobile app.
AR Portal iOS mobile app
Using the iOS AR Portal mobile app is simple:
Download and launch it

Click on the "360 photo" download button

Here you will get the details on how you should take your 360 photo (via Google Street View mobile app or 360 camera).

Upload it

Click on the "AR Render" button

Once created, you will be able to create your portal's AR code by clicking on the QR Code icon in the list.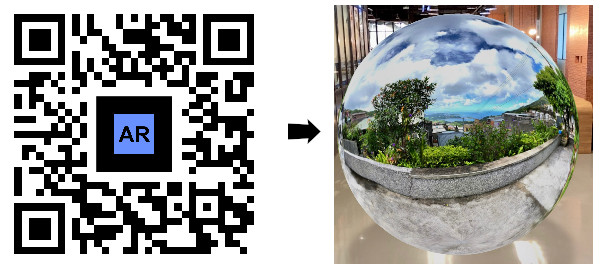 AR Portal creation web interface
The AR Portal creation web interface is available on the web service https://ar-code.com. The creation process is simple:
Sign up for a free or paid account on AR Code

Click on the type of AR Portal experience

Follow the instructions to create your 360 photo

Upload it

Generate your AR Code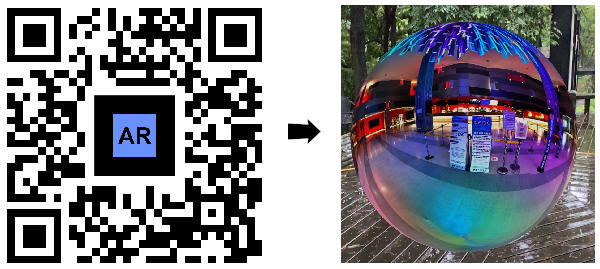 AR Portal examples
The AR Portal project has its own website https://ar-portal.com with access to various 360 photos examples: 360° photos panoramas examples.