---
Friday 15th of July 2022 11:12:11 AM |
---
3D CAD models are designed to be used in a professional environment such as industry, manufacturing, architecture agencies, design studios,... These 3D files can be manipulated by specific CAD software.
Here is a non-exhaustive list of these CAD software: Fusion 360 Autodesk, Solidworks, CorelCAD, AutoCAD, Tinkercad, FreeCAD, SketchUp, Bentley, LibreCAD, IRONCAD, Solid Edge, SOLVESPACE, BRL-CAD, Rhino, Siemens NX, QCAD, PTC , CATIA or OpenSCAD.
Converting a 3D CAD model can be done on its original design software but if you don't have access to it or it doesn't work, there is another way to do it. Please follow the tutorial below:
Convert a 3D CAD model to .GLB or .OBJ files with CAD Assistant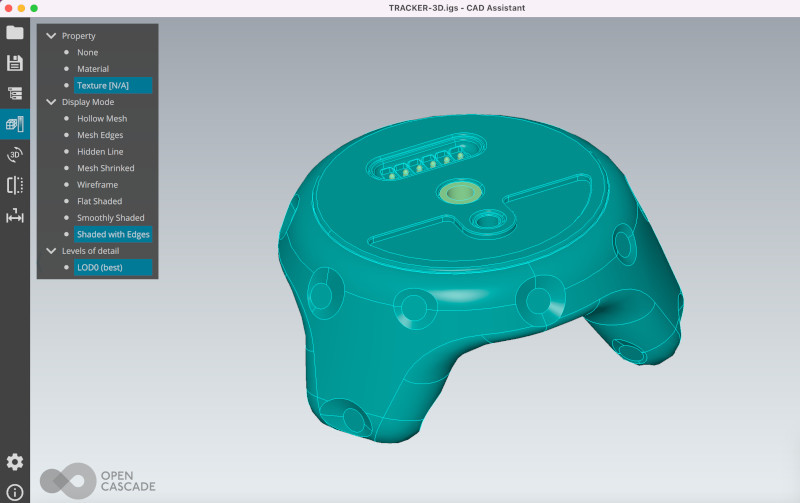 CAD Assistant is a 3D software that offers a free viewer and converter for commercial use. To download it, follow this link: https://www.opencascade.com/products/cad-assistant/
How to convert:
Open CAD Assistant
Select a 3D file to import in the following format: STP (STEP), IGS (IGES), LOG, OFF, 3DM, VRML, WRL, MSH, XBF, BREP, GLB, GLTF or OBJ
Export the file by saving it in .GLB or .OBJ format
Note that the .GLB format will retain more details of your model (organization of the meshes), the .OBJ model will bring all the meshes together it will then simplify any further processing on the 3D model such as reducing its size: Tutorial on reducing the size of a CAD 3D model
Video tutorial for CAD Assistant conversion and Augmented Reality display with AR Code
Converting a 3D CAD model to other file formats
Once your file is in .GLB or .OBJ format, it becomes easily convertible by classic 3D software like Blender or MeshLab. To download these software, please follow the links below:
Powering
17,704 AR experiences
Serving
18,393 Scans per day
Start creating, managing, editing, and tracking your AR Code experiences.