---
QR Code Tech | 04/02/2023 |
---
QR Codes were introduced in the early 2000s and have become increasingly popular in the world since then. They are used for a variety of purposes, such as making payments, accessing information, and scanning to enter buildings or events.
The Evolution of the QR Code
In 1999, engineer Masahiro Hara of the Japanese company Denso Wave invented the QR Code. Denso Wave, which produces industrial equipment for the automotive industry, developed this optical data transfer system for industrial purposes and made it available to everyone through a license while retaining open patent rights.
As QR Codes gained popularity in Japan, many Japanese cell phones from the early 2000s were equipped with the ability to scan them. Other Asian countries followed this trend.
"QR Codes became more visible in Europe and the US over time, and then gained widespread popularity with the release of smartphones and their third-party barcode scanning apps.
Today, many smartphone manufacturers include QR Code reading in their operating systems. For instance, Apple recently added a dedicated button for scanning these codes in iOS and iPadOS.
Apple is rumored to be developing a redesigned QR Code called the "Apple Vision Code" which will reportedly be integrated with the company's upcoming "Apple Vision" headset. Only one experience has been revealed so far, which involves downloading mini-applications called "App Clips" through "App Clips Codes."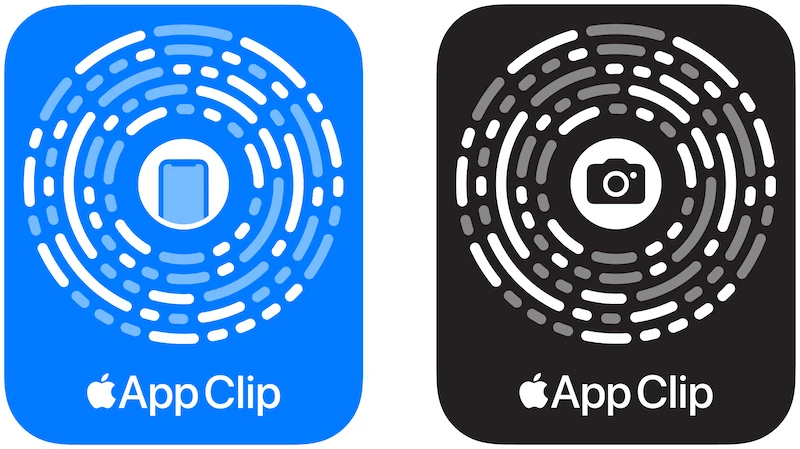 Although QR Codes have become popular in the West, they have been in use in Asia for much longer. While the US and Europe were using them to access websites, Asian countries were using them to store consumer information and maintain industrial equipment.
Today, the use of QR Codes for these purposes is growing in the West, while in Asia we use them to pay for shopping, connect with social networks, and display augmented reality experiences.
From the QR Code to the AR Code
Over the past decade, the evolution of QR Codes has closely followed the evolution of information technologies, as it is primarily an optical recognition system that can be linked (or not) to a remote server. Its versatility allows it to easily adapt to new digital uses.
QR Code stands for Quick Response Code, which was its original name in reference to the technology's industrial purpose. Today, several code systems have been created using this quick optical recognition technology, including bcode, BEEtag, Aztec Code, Data Matrix, EZcode, and more recently Snapcode by Snapchat and App Clips Code by Apple.
During the era of web 1.0, QR Codes referred to simple web pages. In the age of social networks and e-commerce, they enable data exchanges and payments. In the future augmented world, QR Codes will grant access to augmented reality experiences.
AR Codes are QR Codes that anchor augmented reality experiences.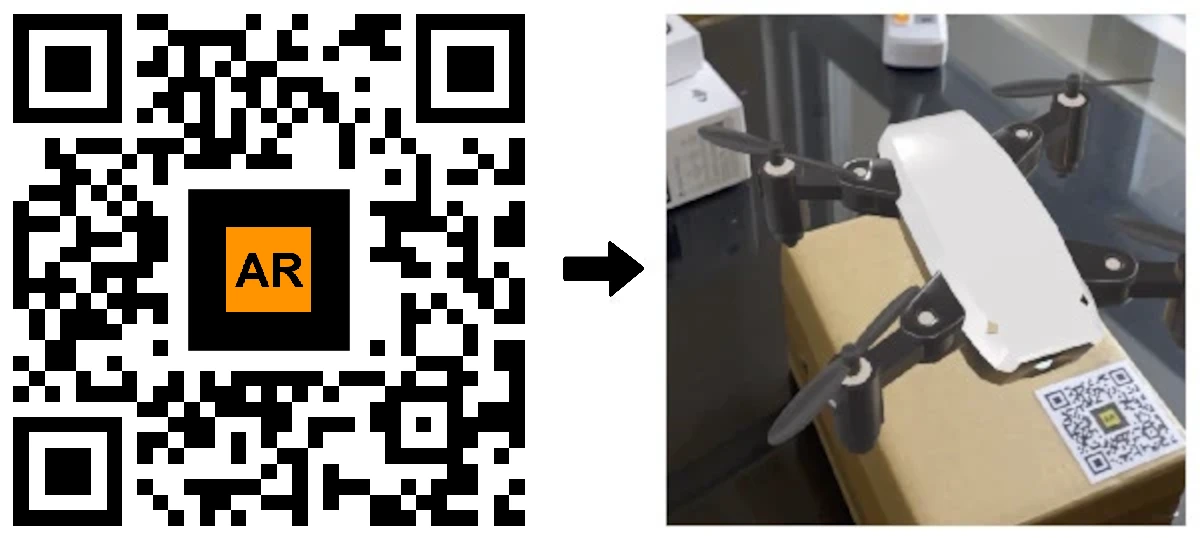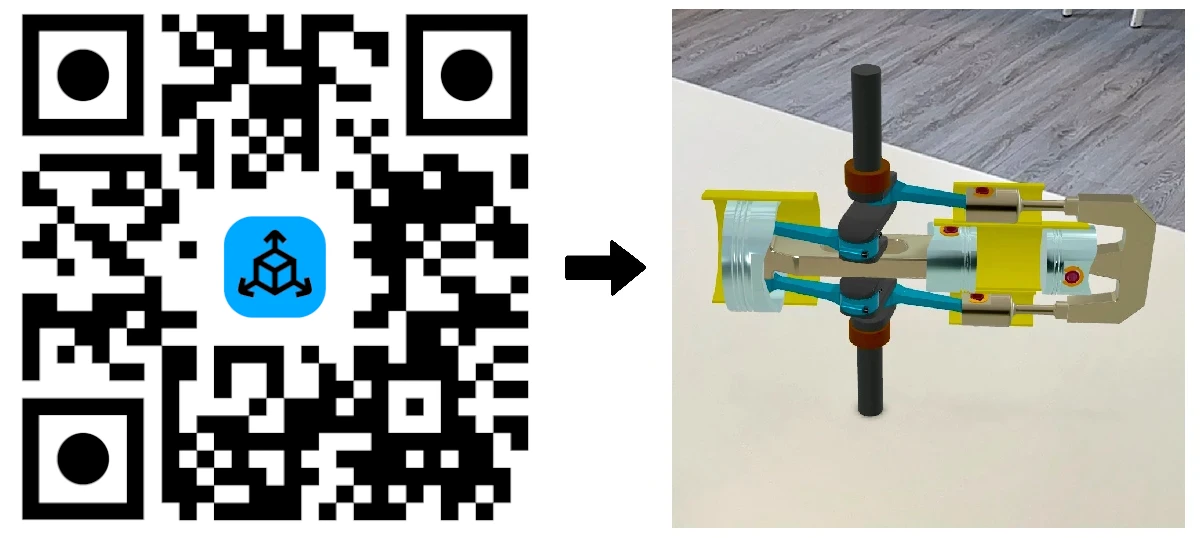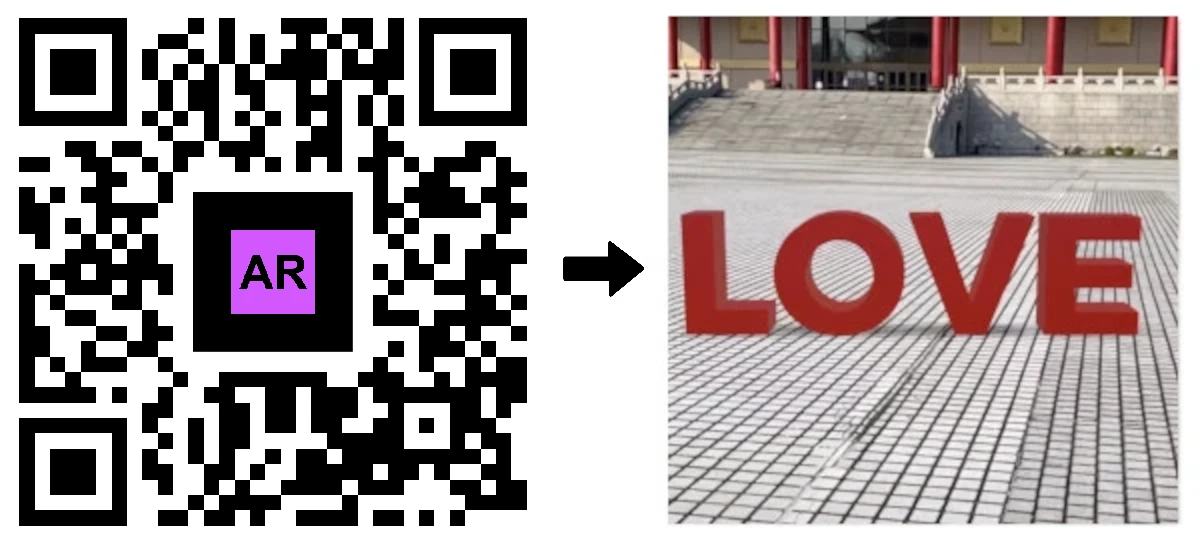 What's Augmented Reality?
Augmented reality is a technology that combines optical processes and spatial computing to display virtual elements in a user's field of view. It can also be combined with acoustic technologies to create an immersive sound environment for the user.
To understand the process of displaying augmented reality, it is helpful to be familiar with four concepts:
AR Device: There are already many AR-compatible devices on the market, with an estimated 2 billion AR-compatible smartphones in use today. Consumers can expect to see augmented reality glasses on the mass market this year. The major tech companies, such as Apple, Google, Microsoft, Samsung, and Huawei, all have their own hardware ecosystems that support the development of immersive AR renderings. Apple, in particular, has made significant progress in AR rendering with ARkit. Recently, Facebook, the social media company, announced plans to develop future augmented reality devices and a metaverse. This follows their virtual reality plan after the acquisition of Occulus in 2014. The strategy of Facebook and Meta founder Mark Zuckerberg is to create a comprehensive VR/AR ecosystem by first developing VR headsets and then moving on to the creation of an AR ecosystem once the necessary hardware technology is available.
AR Content: Today, millions of users use AR daily for games or photo/video filters, but these are only a small part of the available AR content. As the use cases for augmented reality expand, it is likely that many of our interfaces will be displayed in AR in the near future, such as computer screens, TV screens, and theater screens. Additionally, 3D recordings of events will provide new ways to interact socially. Microsoft's Hololens 2 headset has already demonstrated this possibility for AR.
AR Rendering: For over a decade, digital giants have been competing for a leading position in the AR technology market. They are also competing with each other for control over various parameters of the AR rendering software. AR systems are usually integrated into proprietary operating systems, with the exception of the open-source format known as WebAR, which is designed for simple AR displays. AR.js is the most universal AR technology and can be displayed on most web browsers, but more advanced AR rendering technologies can be found on high-end smartphones and tablets. Apple's AR rendering system, ARKit, is installed on nearly a billion devices, and Google's AR rendering system, ARCore, is installed on a similar number of smartphones.
AR Anchoring: In an augmented world, the ability to locate augmented reality experiences will be crucial. There are several types of anchors that could be used:

- Anchoring in the direct environment: Allows users to display an AR experience in front of them (e.g., an AR game).

- Anchor through longitude and latitude data reported by a device: For example, an AR content could be activated at a specific location in a city.

- Anchoring through the recognition of objects, buildings, places, faces, etc.: This is already widely used on social networks and can also be done with WebAR technologies.

- Ultra wideband anchoring: Apple has unveiled an AirTag accessory that uses this technology and is expected to display augmented reality in the near future.

- AR Codes anchoring: This is a universal AR anchoring solution that is already widely used to access information via QR Codes. With the growth of AR technology, QR Codes are being transformed into AR Codes to anchor AR experiences on products, membership cards, storefronts, tourist sites, websites, etc.
AR Code technology relies on AR anchoring, AR content, and AR rendering. When users scan the code with their AR devices, they are directed to the appropriate AR content and rendering. The AR content can be hosted on an AR Cloud server or on a third-party platform such as social media (Facebook, Instagram, SnapChat, etc.).
AR Code SaaS, 3 different AR renderings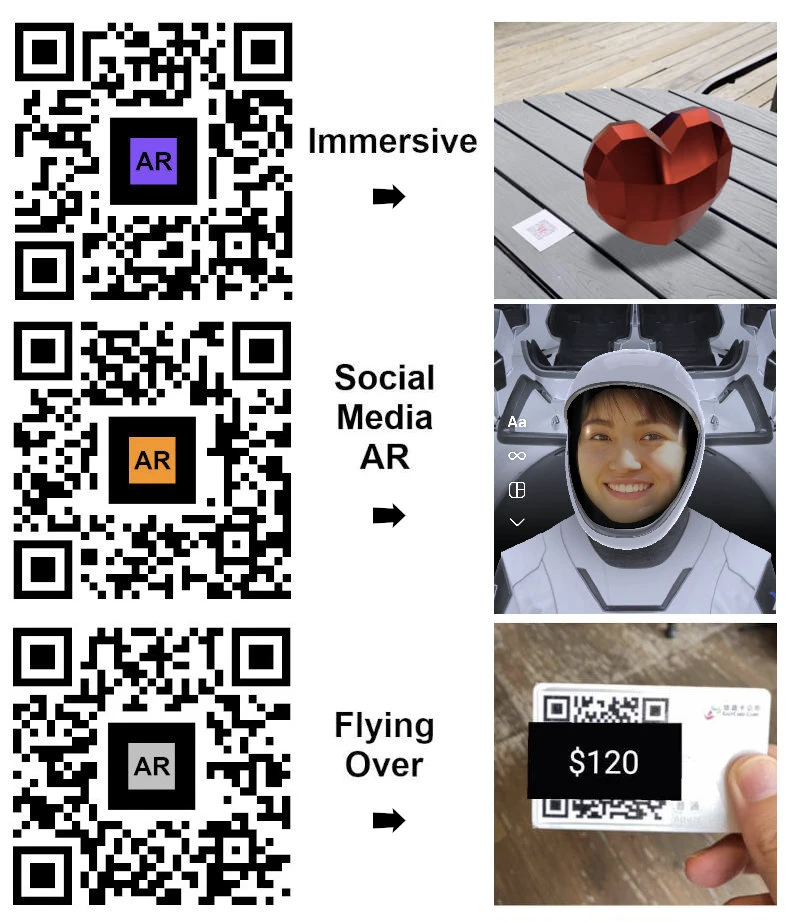 1 - Immersive: Rendering: ARKit & ARCore / Content: AR Code Cloud server
2 - Social Media: Rendering: Instagram / Content: Instagram server
3 - Flying Over: Rendering: WebAR / Content: AR Code Cloud server
Frequently asked questions
What are QR codes and how did they originate?
QR codes are two-dimensional barcodes capable of storing a lot of information in a small space. They were invented by engineer Masahiro Hara in 1999 at the Japanese company Denso Wave, which produced industrial equipment for the automotive industry. Initially designed for industrial purposes, the technology later became available to everyone through a license.
What are App Clips Codes?
App Clips Codes, created by Apple, are a specialized form of QR code associated with small-scale applications that can be accessed by scanning the code. These codes are used for various mini-apps, including those featuring augmented reality experiences.
What are AR Codes and how do they relate to QR Codes?
AR Codes are QR Codes that anchor augmented reality experiences. QR Codes have evolved to enable data exchanges and payments, and in the future augmented world, QR Codes will grant access to augmented reality experiences.
Powering
31,966

AR experiences
Serving
114,314

Scans per day
Trusted by
21674

Creators
Start creating, managing, and tracking your AR Code experiences.